By Scott Gaertner
You've probably seen these headlines in national publications:
"The Housing Market Recession is Coming"
-Yahoo! Finance, December 4, 2018
"Real Estate Markets Cooling Across the Country, and It's Not Just the
Winter Effect"
-Forbes, November 15, 2018
"Luxury Home Sales Could See Long Winter Chill"
-CNBC, December 4, 2018
"Why the Housing Market is Slumping, Despite a Booming Economy"
-The New York Times, November 15, 2018
But how bad will the shift in the Real Estate Market really be?
I thought it might be helpful to give you some color and context about these headlines and the potential shift in the market. Let's begin our conversation on a local level. The chart below shows the 6-month Cromford Market Index for the greater Phoenix area.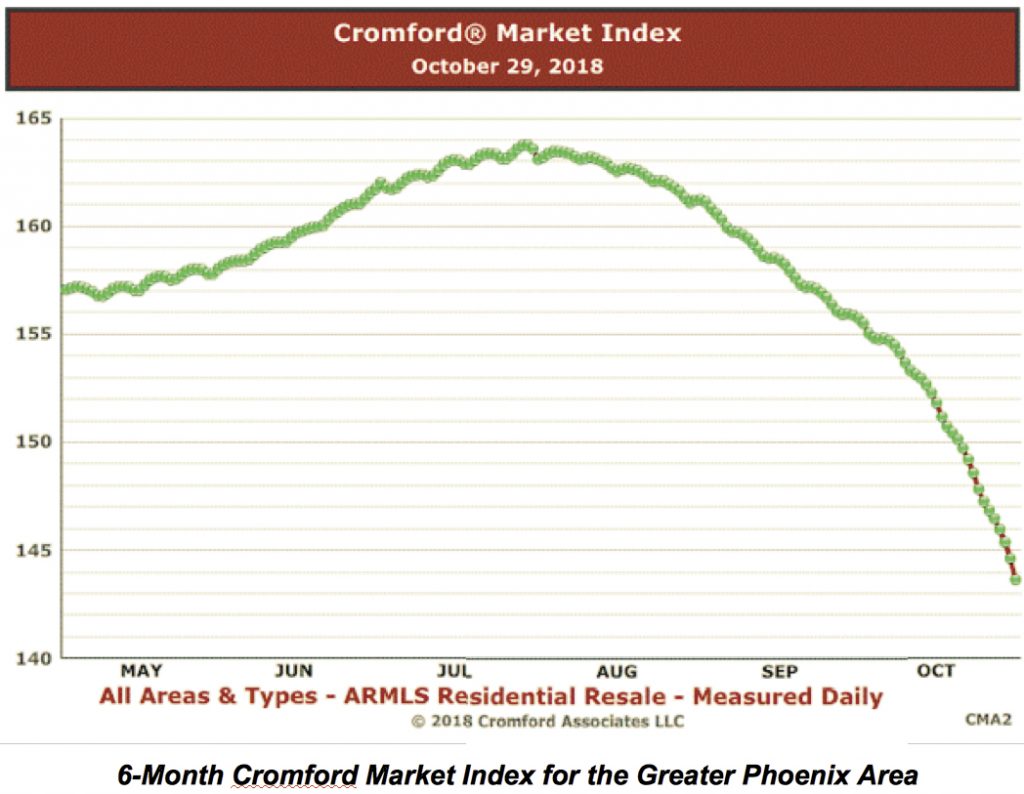 The Cromford Market Index provides a short-term forecast to illustrate the balance of the real estate market. It is derived from the trends in pending, active and sold listings, compared with historical data over the previous four years. Values below 100 indicate a buyer's market, while values above 100 indicate a seller's market. A value of 100 indicates a balanced market.
As you can see, this chart demonstrates a recent change in the balance of the market. While you only see 6 months here, I can tell you that the balance has been in the seller's favor (above 120) since 2015.
Now let's take a look on a hyper-local level. The chart below examines monthly home sales over the last two years in the 85266 zip code, the core of the Scottsdale North area.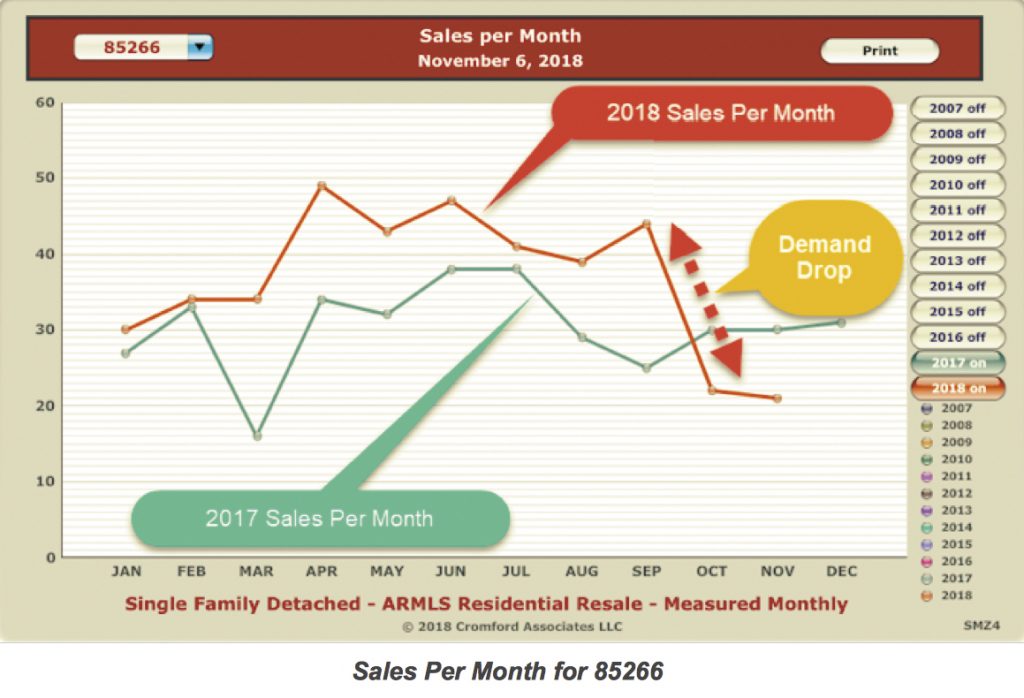 As you can see, 2018 sales were easily outpacing 2017 sales all year long until they took a nosedive in September.
So, What Does This Mean for Our Real Estate Market?
Here we have two data points that show evidence of a drop in demand at the moment. But that› is really all they are: data points that show short term market trends.
Although demand is down, it is still in excess of the chronically low supply and we are still in a seller's market in almost all markets in the Valley. We certainly still are in Scottsdale North. However, the advantage for sellers is less than it has been for the past two years. This means we are seeing more cuts in asking prices and greater willingness to agree to buyer requests during contract negotiations.
The fact that these short-term trends are causing scary headlines likely says more about what the news media has to do to get our attention these days, than it does about our real estate market. That we care about the headlines probably speaks to unhealed scars we have from the housing market collapse a decade ago. Those same scars will cause many of us to reflexively infer that we are in a major inflection point headed for a catastrophic correction, rather than a simple statistical adjustment or anomaly.
Keep These Takeaways in Mind
Although this information may be a bit dated and change by the time you see it published in the newspaper, due to print deadlines, it will still help you understand how to look at shifts and trends in our real estate market. I'll leave you with the following takeaways:
• The Scottsdale North resale market is not heading for a "crash."
• The real estate market is always striving for balance and it has been out of balance in favor of sellers for four years, due to low supply.
• Increases in supply are not bad news. They are a healthy indicator that perhaps the market is heading towards balance and some form of normalcy.
• Sales Prices will be the last measure to respond to a shift. The first price to respond is list price.
Lastly, headlines like the ones I used above can be misleading, confusing, and even upsetting. Remember that all real estate is local. Scottsdale North is a very different market than even the Scottsdale Market. If you have questions or concerns, ask an expert in your area. As always, I am happy to help.
Scott Gaertner is an Associate Broker with Keller Williams Northeast Realty, who for the past 25+ years has helped more people to find their lifestyle niche in the Scottsdale North area than anyone else.