By Katy Springer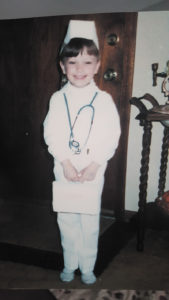 "What do you want to be when you grow up?" Even as a little girl, North 32nd resident Melissa Reichenbach knew the answer to that question. There's a photo tucked away on her bookshelf of career day at kindergarten: 5-year-old Melissa is dressed up as a nurse.
"My mom has been a cardiovascular intensive care nurse for nearly 40 years," she says. "I wanted to be just like her."
To say she's fulfilled a lifelong dream is an understatement. The 37-year-old earned her bachelor's in nursing from Purdue University, her master's in nursing from Arizona State University, and other credentials including primary care pediatric nurse practitioner (PCP-C) and certified rehabilitation registered nurse (CRRN) certifications.
But she didn't just grow up to become a nurse – she became a health care professional whose commitment, passion and excellence were honored recently during Phoenix Children's 16th annual Nursing Excellence Awards. Given the health system's staff of more than 1,600 nurses, this acknowledgment is no small feat. "I was absolutely shocked when I received the award," Reichenbach says.
Reichenbach is the nursing educator for Phoenix Children's Inpatient Rehabilitation unit and the hospital's East Tower, where children with gastrointestinal disorders, endocrine conditions, and infectious illnesses receive care. In her role, she is responsible for training up new graduates, helping veteran nurses learn new techniques, and ensuring her team of 170 nurses, technicians and health unit coordinators keep their skills sharp.
Her colleagues and supervisors report she is masterful as a nurse and as an educator. Her approach to teaching is engaging and motivating – not to mention patient and kind.
"There's nothing like helping new nurses move from uncertainty in their role to confidence in caring for patients and families," she says. "I also love watching my experienced staff show compassion and skill in their work with patient families and in supporting one another."
A mother to two young children, she started working the night shift when COVID-19 hit. This has allowed her to continue working as a nurse while she and her husband, Jason, tag-team caring for their children, whose schools have been shuttered amid the pandemic. She says it has been a blessing, both personally and professionally.
"We have such amazing leadership here at Phoenix Children's," she says. "In addition to helping me juggle my life as a nurse and a mom, they saw value in having a dedicated nurse at the hospital every night to answer all COVID-19 questions. One of my responsibilities is to stay current on all of our policies and procedures, like visitor restrictions and the use of personal protective equipment."
Her Nursing Excellence Award is just one of two honors she received. She also was named the Education team's "Nurse of the Year."
Phoenix Children's hosts its Nursing Excellence Awards during National Nurses Week each year. It's an opportunity to spotlight four nurses who have gone above and beyond. The health system awarded Reichenbach the Education Award. Francine Hoekstra, RN, CDE, of Glendale won the Nursing Research and Evidence-Based Practice Award; Gretchen Schwindt, MSN, RN, CPN, of Scottsdale was named Transformational Leader; and Phoenix's Casey Kinney, BSN, RN, CPN, was awarded Staff Nurse of the Year.