By Michelle Talsma Everson
"Although the coronavirus has brought so much turmoil, I do believe that it has connected many of us in a special way allowing us appreciate the simpler things," shares local resident Hunter Ford, a college student who was recently laid off due to COVID-19. One of the simple things that Ford is referring to is the now-popular pastime of drawing with chalk on local sidewalks and driveways to help spread happiness and brighten neighbors' days as they shelter in place.
"Chalk murals have become my salvation during this time due to the creative outlet it has provided me and the joy it has brought to others," Ford shares. "It all began with an Ariel chalk mural for the little girl who lived next door. Seeing her gleaming face inspired me to create more around the neighborhood in hopes to bring that same joy to others. I wanted to chalk the sidewalks with a pop of color so that many could enjoy on their daily walks. The support from my community warmed my heart and, in turn, I want to continue to spread positivity through my art in hopes of bringing the community together."
Local resident Ben Kail and his family have also joined in the chalk art fun.
"My 3-year-old son, Gabe, and I have always loved using sidewalk chart," Kail shares. "Recently with more time on our hands we have stepped up our game and have enjoyed beautifying our neighborhood during such a difficult time."
"I have little to no say in what we get to draw," he continues. "It is common for Gabe to wake me and my wife up at 5:30 a.m. and say something along the lines of 'Let's draw Moana today!' We tend to draw whatever his favorite animated character is that day. We have done everything from Winnie the Pooh and Rapunzel to Superman and Yoda. Our friends, family, and neighbors are always excited to see what we will come up with next. During quarantine we have definitely focused our attention on bringing some joy to our neighborhood. We happily used chalk to turn our entire driveway into a life size Candy Land board and invited our neighbors' grandchildren to play whenever they wanted."
Local resident Leslie Church found out about the chalk drawings through the popular Facebook group "North 32nd Community." She and her daughter Parker soon after decided to join in the fun.
"We have always loved crafting and my daughter loves to draw as much as I did growing up, so I decided to draw some characters for her from Five Nights at Freddy's," Church says. "It's a very popular series with kids her age. They are her absolute favorite. The neighbors have been driving by as we draw, complimenting us on our artwork with smiles and thumbs up."
Church shares how the chalk art has helped her to connect—even from a distance—with her neighbors.
"I would love our community to know that even though times may be challenging, there are always ways to safely spread joy with even the smallest of gestures," she says. "Times are different for now, but we will recover from this and we look forward to meeting more members of the community—hopefully soon face to face."
In addition to the chalk drawings, neighbors have found other ways to keep busy and positive during this time.
"To keep us in good spirits we have been gardening, baking, making chalk art, throwing parties for stuffed animals, hiking in the mountain preserve, doing a lot of family workouts [virtual workouts from local business TruHit], and having backyard campouts," shares local resident Melissa Jamshidi.
Inspired by their neighbors, even local businesses are spreading cheer.
"We are foster parents to three of my niece's kids and have three of our own, so this month we decided to do a fundraiser for the staff at Phoenix Children's Hospital as five out of six kids have had to be treated there," says Charles Altstatt, owner of Gourmet Street Eats food truck. "We were able to raise enough to drop off 50 plates."
To learn more about what community members are doing to spread cheer and goodwill, join the group at Facebook.com/groups/north32nd.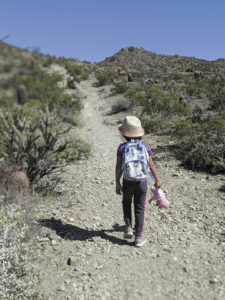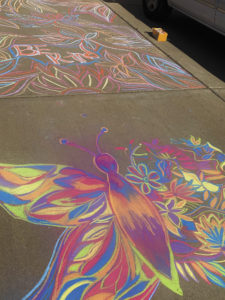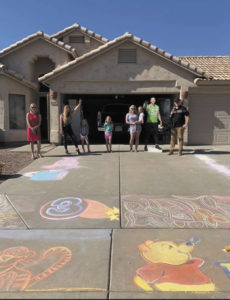 Photos Courtesy of Local Residents